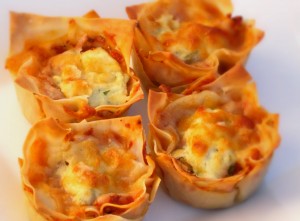 You-bake lasagna

(photo is actually lasagna cupcakes from our catering menu, but you all know what lasagna looks like)
Each Wednesday this month, we will be delivering a different entrée. This week, your choice of traditional meat sauce lasagna, or roasted vegetable.
Lasagnas are fully prepped, and ready for you to bake in your oven; 30 – 40 minutes @ 350 degrees.
Lasagnas will keep in your refrigerator for up to 4 days, or in the freezer for 1 month.Comes in a disposable foil pan , 9×12″, easily serves 6.
 Order more than one to have whenever you like!
Call Chad @ 307-399-4046, or email etc@bresnan.net to schedule a delivery time.