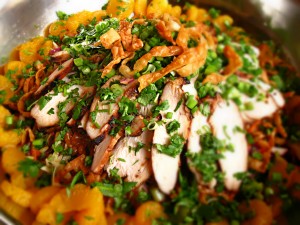 Ready to serve, disposable bowls feed 4 people, family style, as entrees, 8 people as side salads. Disposable tongs, plates, napkins, forks, and delivery included.
South Austin
Romaine lettuce, with citrus marinated shrimp, black beans, corn, and crispy tortilla strips. Tex-Mex ranch dressing served on the side. (mildly spicy)
Santa Monica
Grilled chicken on a mix of cabbage and lettuces, mandarin oranges, slivered almonds, cilantro, and crispy wonton strips. Sesame ginger dressing served on the side.
Boulder
Thinly sliced kale, toasted breadcrumbs, and freshly grated parmesan, tossed in a lemon garlic dressing. Topped with grilled chicken.
Athens
Crisp romaine lettuce with grilled chicken, cucumbers, kalamata olives, tomato, and red onion. Lemon feta vinaigrette served on the side.